These are the best content marketing tools in 2022.
For this guide, I tested dozens of SaaS products, software programs and resources. And I took screenshots of how each one works.
Unlike most "best of" lists, I'm not getting paid as an affiliate to include any tools. Instead, this list is purely based on my own testing and 10+ years of experience in content marketing.
Now, on to the tools.
Content Marketing Platforms and Content Calendars
1. HubSpot
Price: HubSpot's software costs $45 – $4,000+ per month, depending on the size of your email list and the features you need.
It's geared toward enterprises and fast-growing startups. But the company also offers free tools for things like building landing pages and lead forms. 
What it does:
HubSpot offers a wide range of tools for marketing, sales and customer service. 
Their Marketing Hub product alone includes tools for:
Email and marketing automation
Blogging
SEO
Ad management and tracking
Social media management
CRM-integrated analytics
Video hosting
Live chat
Whew.
How it works:
Because HubSpot includes so many tools under one roof, the software makes it easy for content marketers to collaborate with other teams. As well as to measure the ROI of their work.
For example, it's simple to create an email nurturing campaign and plug it into a lead form, publish that form next to a big new piece of educational content, and drive traffic to that piece of content with an Instagram ad campaign. All managed within HubSpot.
And once the marketing campaign is running, HubSpot also makes it easy to see how well the leads from it are converting for your sales team.
Some customers say the software isn't customizable enough. And the reporting from HubSpot CRM takes an advanced degree to figure out.
But with 4.4 out of 5 stars on G2, HubSpot clearly has plenty of happy customers.
Website: https://www.hubspot.com/
2. Monday.com
Price: Monday.com costs $8 – $20+ per user per month. There is also a free, limited version of the software.
What it does:
Monday.com is a project management platform for teams. Its "board"-based UI lets you see projects in a calendar view, which is great for content calendars.
You can also display the same projects in a kanban view, gantt view and more. Which makes it easy to move a given piece of content between different stages like ideation, writing, editing and approval.
Here's what the calendar view looks like:
And here's a kanban view of the same information:
Monday.com isn't exclusively designed for content marketing teams. But it's flexible enough that you can set it up to work with your content marketing process — whatever that looks like.
The platform also features integrations with tools like HubSpot, Mailchimp, SurveyMonkey and Twilio.
Monday.com is rated 4.7 out of 5 stars on G2.
Website: https://monday.com/ 
3. StoryChief
Price: StoryChief starts at $90 per month for a team of 4 users, up to $750+ per month for enterprises that need custom integrations.
What it does:
StoryChief lets you create and manage blog posts, social media, press releases, newsletters and internal communications all in one place.
It supports content collaboration, approvals processes and multi-channel distribution.
How it works:
StoryChief's biggest draw is how it handles content distribution. Specifically, it makes it really easy to publish to multiple platforms at once.
When you publish a new blog post with StoryChief, you can have it post to your brand's on-site blog and its Medium blog at the same time that it shares the post on each of your social profiles and emails your subscribers.
The tool also includes workflow and collaboration features to help keep your projects moving from content brief to draft and final review.
StoryChief's rating on G2 is 4.5 out of 5.
Website: https://storychief.io/
4. DivvyHQ
Price: DivvyHQ costs $29 – $799 per month.
What it does:
DivvyHQ is a content marketing platform that features content planning and workflow automation. It's designed for larger content teams and content marketing agencies.
How it works:
The backbone of DivvyHQ is its content calendar.
It uses a popup form-based interface for adding new content and campaigns to the calendar. The interface is a little dated, but it lets you include lots of details.
You can set up multiple calendars and choose which ones each team member can access. And there's a "park" option to save content ideas that aren't ready to schedule yet.
DivvyHQ also features plenty of integrations.
Website: https://divvyhq.com/ 
5. CoSchedule Marketing Calendar
Price: CoSchedule's marketing calendar costs $29 per user per month. (The company also offers a full marketing suite, with pricing available via sales call.)
What it does:
The CoSchedule marketing calendar uses a drag-and-drop interface to help you plan your content.
It also features integrations with platforms like Facebook, WordPress, Google Docs and Asana. That way it can be the single "source of truth" for a large content operation.
CoSchedule also offers some useful free tools like an email subject line tester and a headline analyzer.
Website: https://coschedule.com/ 
6. Backlinko's Content Calendar Template
Price: Free.
What it does:
This is a simple, spreadsheet-based content calendar template. It's available as a Google Sheet or Excel workbook.
It doesn't have any fancy workflow automation features. But for solo creators or small content marketing teams, you can't beat the price.
How it works:
This content calendar template includes two tabs: one for your content list and workflow, and one for the calendar month.
As your projects go from ideation to different stages of production, you and your team can track their progress in the "content list and workflow" tab.
Then you'll use the "[Month + Year]" editorial calendar tab to create a new tab for each month. And add each planned piece of content to it.
It's a manual process, but it works.
Website: https://backlinko.com/templates/marketing/content-calendar 
Content Marketing Research Tools
7. BuzzSumo
Price: BuzzSumo offers a free plan for up to 10 searches per month. Its unlimited plans cost $79 – $499+ per month.
What it does:
BuzzSumo lets you quickly see what content is getting shared across the internet.
How it works:
Just plug in a topic, keyword or domain and hit "search".
Then BuzzSumo will display a list of relevant articles and videos. Which you can sort based on social shares, backlinks or total engagement.
BuzzSumo also tracks whose content is getting all those shares and links. Which makes it a great tool for finding bloggers, influencers and journalists for outreach purposes.
Note that BuzzSumo's index of backlinks isn't as good as SEO-focused tools like Ahrefs or Semrush (which are both covered in the "General SEO Tools" section of this post).
Which means that BuzzSumo's "number of links" metric isn't 100% accurate. But its social engagement metrics are excellent.
Website: https://buzzsumo.com/ 
8. SparkToro
Price: SparkToro costs $38 – $300 per month. It also has a more limited free plan.
What it does:
SparkToro is an "audience intelligence" tool.
You can type in any topic and SparkToro will tell you about the people who follow it: the websites they visit, the YouTube channels they watch, the podcasts they listen to, and so on.
How it works:
To use SparkToro, just type in a topic, domain name or social account and hit "search".
The tool then pulls up insights like the size of the audience that's interested in that topic, the top hashtags they use on social media, and the most common phrases in their profile bios.
But what makes SparkToro awesome is the next part. Where it displays that audience's favorite social accounts, websites, podcasts, YouTube channels and press accounts:
That info makes it easy to find relevant websites to advertise on, blogs to guest post on, podcasts to get interviewed on and influencers to partner with in order to reach your target audience.
Website: https://sparktoro.com/ 
9. SimilarWeb
Price: The basic version of SimilarWeb is free to use. The company also offers enterprise plans starting at $500 per month.
What it does:
SimilarWeb lets you see traffic estimates for any website, broken down by traffic source and geography.
How it works:
To use SimilarWeb, just type in a domain name and hit search.
It'll start by showing you general information about that website's traffic. Like which countries and traffic sources its visitors are coming from, how many come from search vs. social, referral, etc.
If you scroll down from there, you'll see more details.
For example, the tool will show you specifically what the domain's top referring sites are. Which is a great way to find potential partners and sites to guest-post on.
SimilarWeb also shows websites' top organic and paid search keywords, top social media platforms and more. It isn't 100% accurate, but in my experience it's close enough to be useful. (And it made my traffic study possible.)
Website: https://www.similarweb.com/ 
10. Exploding Topics
Price: The basic Exploding Topics newsletter is free. The company also offers a Pro version for $47 – $197 per month.
What it does:
Exploding Topics is a weekly newsletter that highlights fast-growing new trends. Which can be great, low-competition topics for you to produce content around.
The website also lets you browse past trends they've discovered.
How it works:
The free Exploding Topics newsletter includes four new trends each week.
Each trend has a short description and a chart of how its search volume is growing.
The trends fall under a wide range of subjects and industries. From tech startups to beauty products, food and more. 
(Full disclosure: I was a co-founder of Exploding Topics, but I'm no longer involved.)
Website: https://explodingtopics.com/newsletter
General SEO Tools
11. Siteliner
Price: Free.
What it does:
Siteliner is a web app that checks your website for common SEO issues like duplicate content and broken links. It can also generate XML sitemaps.
It's almost like a miniature version of Screaming Frog (which is an excellent tool too).
How it works:
To use Siteliner, just enter your homepage URL and hit "Go".
It will take a minute or two to crawl your website, or longer if it's a big site.
Then it will show you a quick overview of any issues it found. As well as a breakdown of the different HTTP codes on your site.
Siteliner also displays a comparison of how your site stacks up against others in terms of page size, loading time, words per page, inbound links and more.
Website: https://www.siteliner.com/ 
12. Google Search Console
Price: Google Search Console is free.
What it does:
Google Search Console is probably the most important SEO tool out there. It shows you how much organic traffic you're getting from Google, including page-level and keyword-level details.
It also lets you see your webpages' search CTR, internal and external backlinks, indexing problems, mobile usability issues, Core Web Vitals and more.
How it works:
To sign up for Google Search Console, you have to prove ownership of your site. Luckily, there are a bunch of ways to do that. From adding a tag to your site to simply having admin access to your site's Google Analytics account.
Once you've set it up, there's a lot you can do in Google Search Console to improve and monitor your search engine optimization.
My favorite part is the Performance section. That's where you can see how your site is performing on Google (and Google Discover).
Including a traffic-over-time graph as well as data by query (keyword), page, country and device.
Website: https://search.google.com/search-console/ 
13. Ahrefs
Price: Ahrefs costs $82 – $999 per month.
What it does:
Ahrefs is one of the most popular paid SEO tools. And for good reason. It has a massive index of backlinks, along with great features for doing keyword research, analyzing competitors and more.
How it works:
Ahrefs includes all the functionality you'd expect from a paid SEO SaaS tool.
It's almost like being able to see into any website's Google Search Console account. It's that powerful.
Just plug in any domain and it'll show you:
The website's top pages
What keywords those pages are ranking for
The website's backlinks
Its linking domains
The anchor text those links are using
Its biggest competitors for search traffic
Its top Google Search Ads
And more.
Here's a snapshot of the Overview report in Ahrefs:
Ahrefs also has a helpful feature called "Content Explorer".
Content Explorer works a lot like BuzzSumo. It lets you see what content for a given topic is getting the most social shares and backlinks.
BuzzSumo's version of that particular feature is more powerful. It includes more social engagement metrics, and from what I've seen they tend to be more accurate too.
But Ahrefs's SEO features are definitely much better than BuzzSumo's.
So while the two tools overlap a little, if SEO is important to you I would recommend Ahrefs. While if your focus is more on social media I would go with BuzzSumo.
Website: https://ahrefs.com/
14. Semrush
Price: Semrush costs $99.95 – $449.95 per month.
What it does:
Semrush is probably Ahrefs's #1 competitor.
It does most of the same things, with a few minor differences.
For example, Ahrefs's index of backlinks is more accurate. But Semrush has better tools around PPC advertising and keyword research.
If you're serious about PPC, Semrush is the better tool. But if you're much more focused on content marketing and SEO, then I'd give Ahrefs a small edge.
That said, if you're already a Semrush user it probably isn't worth switching. Both tools are great.
Here's what the Domain Overview report looks like in Semrush:
Website: https://www.semrush.com/ 
15. Rank Math
Price: The basic version of Rank Math is free. The company also offers paid tiers for $59 – $199 per year.
What it does:
Rank Math is an SEO WordPress plugin. Similar to other SEO plugins like Yoast, Rank Math helps you optimize website pages and blog posts as you create them.
But Rank Math's free plan includes several popular features that Yoast only offers in its paid plans. Like internal link suggestions and multiple focus keywords per page.
How it works:
Rank Math displays its main features in the sidebar next to the blog post or page you're working on.
At the top of the sidebar interface is a preview of the page's SERP snippet. Along with a button to edit the page's meta description and meta title tag.
Below that, you can choose your focus keyword for the page.
And below your focus keyword, Rank Math shows a checklist of tips: from putting your focus keyword in the title tag to using short paragraphs and adding internal links to other pages. The checklist is automatically updated as you complete the tool's suggestions.
Rank Math also has a separate dashboard with additional features. Like an image SEO feature that automatically adds missing alt text to your images. As well as an SEO audit tool and AMP support.
Website: https://rankmath.com/ 
16. The Detailed SEO Extension
Price: The Detailed SEO Extension is free.
What it does:
The Detailed SEO Extension is a Chrome and Firefox browser extension that provides quick insights on a webpage's on-page SEO settings.
How it works:
After installing the Detailed SEO Extension, click on its icon to pull up the main interface. It'll pull up all sorts of data about the webpage you're on.
The default "Overview" tab shows the page's meta title tag, meta description, URL, any canonicals, robots tags, word count and more.
There are also tabs to show the headings, outbound links, images (including a count of the images without alt tags or title tags), schema microdata and Open Graph tags.
Finally, the plugin includes quick links to look the webpage up on sites like Ahrefs, Archive.org and SimilarWeb. As well as some advanced Google queries like -inurl:https.
Website: https://detailed.com/extension/ 
Keyword Research Tools
17. Google Trends
Price: Free.
What it does:
Google Trends lets you see how popular a given keyword is becoming in Google search. After all, it's much better to focus your efforts on keywords that are growing than ones that are shrinking.
Google Trends won't show you exact search volume numbers. But you can use it to compare different keywords to each other over time.
It also includes location data. And it can help you find related keyword ideas.
How it works:
To use Google Trends, type in a keyword you're interested in and hit enter. Then, to compare other keyword ideas, click the "Add comparison" button at the top and add them.
Below, you'll see a chart of searches for those keywords over time (on a relative scale of 1-100).
If you scroll down farther, Google Trends will show you how your keywords' popularity changes based on location.
That geographic data can have a big impact on what keywords you might want to focus on. For example, some search terms are much more popular in the U.S. than in Europe. Or in California vs. Texas.
Scroll down even more and you'll see related queries to consider targeting as well.
Website: http://trends.google.com/ 
18. Google Search (yes, just Google)
Price: Free.
What it does:
It might seem strange to include it in this list, but good old Google search is probably my #1 content marketing tool.
It's great for keyword research, competitor analysis, content ideation and more.
How it works:
There are tons of ways to use Google as a content marketing tool.
One way is to use its Autocomplete feature for keyword research.
Every other keyword research tool is always at least slightly out of date. But when you get ideas from Google, they're straight from the horse's mouth.
Just type in a topic and look at what the dropdown suggests.
Google will show you a list of keywords people have been searching for lately.
The suggestions are based on where your insertion point (cursor) is. So by default, you'll usually only see ideas for words to add to the end of the phrase you typed in.
But if you click on the left side of the search box, that will move the insertion point before the phrase you typed. Causing Google to show you other keyword ideas.
Google can also show you different keyword ideas after you make a search. There are three main places to look:
The "People also ask" box toward the top or middle of the search results page.


The "Related searches" box at the bottom of the search results page.


The categories at the top of the Images tab. (These are potential modifiers for your original phrase. For example, for "camping gear" the categories are "outdoor," "survival," "essential," etc.)
Then you can paste those keyword ideas into another tool (like Ahrefs, Semrush or Google Trends) to see how often people search for them.
Website: https://www.google.com/ 
19. Ahrefs' Free Keyword Generator
Price: Free.
What it does:
The Free Keyword Generator tool is a limited way to use one of Ahrefs's best paid features, for free.
How it works:
Type in any keyword idea or topic and hit the "find keywords" button. The tool will display a list of keyword ideas below, each paired with a keyword difficulty score and average monthly search volume.
To see even more ideas, hit the the "Questions" button above the list.
The tool can also provide keywords specifically for YouTube or Amazon.
Naturally, it isn't as powerful as the full paid version of Ahrefs. But if you're on a budget, give it a shot.
Website: https://ahrefs.com/keyword-generator
20. Answer The Public
Price: Answer The Public is free for limited use. Its paid plans cost $79 – $399 per month.
What it does:
Answer The Public is a question-based keyword research tool.
It isn't the most powerful keyword research tool available. But unlike other tools, it's based on finding questions people are asking.
So if you need keywords in the form of questions, Answer The Public is a great option.
How it works:
To use Answer The Public, start by typing in your topic. For example, "dog training".
The tool will spit out a wheel of keywords based on question types: what, why, how, etc.
The questions are color-coded based on popularity. And to make them easier to read, you can click on the "Data" tab to display them in list form.
Website: https://answerthepublic.com/ 
21. QuestionDB
Price: Free for limited use. The Pro version costs $7 – $10 per month.
What it does:
QuestionDB is another tool for finding question-based keywords. But unlike Answer The Public, QuestionDB is geared toward generating content ideas.
It doesn't provide keyword search volumes, unfortunately.
But it does link to the actual source webpage for each question. Which can give you even more inspiration for your next blog post, video, podcast or any other content you want to create.
How it works:
To use QuestionDB, just type your general topic into the search bar on the homepage. Then hit "Generate".
It will produce a list of related questions and phrases people are using online.
The tool also provides related topics you can use to find even more questions.
Website: https://questiondb.io/ 
Content Optimization Tools
22. Frase
Price: Frase costs $44.99 – $199.99+ per month. There's also a limited free plan.
What it does:
Frase offers AI-based tools for creating content and interacting with site visitors.
How it works:
Frase has two different SaaS tools:
Frase Content: their tool for doing content research, creating content briefs and optimizing existing content. All based on what's ranking well on Google. Frase Content costs $44.99 – $114.99 per month.


Frase Answers: their on-site AI chatbot tool. Which pulls from your existing content to answer visitors' questions. Frase Answers costs $199.99+ per month.
Here's how to use Frase Content to optimize an existing piece of content.
After signing up for Frase Content, hit the "New document" button at the top right. Then choose the option to "optimize existing content".
Add the URL of your content and your target keyword, then hit "Create Document". (You can also paste in the text of an article you haven't published yet.)
Frase will find what's ranking well in Google and compare it to your document. Pointing out missing content topics, headers and long-tail keywords that you may want to add.
Frase also compares stats like the average word count and number of images in your document vs. other relevant content.
That way, you'll have an idea of where you stand vs. the competition. Which offers a big clue as to whether you're properly addressing search intent.
Website: https://www.frase.io/ 
23. Surfer (Surfer SEO)
Price: Surfer costs $29 – $199 per month.
What it does:
Surfer is a content planning and optimization tool. 
How it works:
Similar to Frase Content (above), Surfer is an AI-based tool that analyzes search engine results pages to see what's ranking well. And then it makes recommendations based on that.
It's used for generating content ideas, creating content briefs and optimizing existing content.
Here's Surfer's audit tool can help you optimize a piece of content. 
One thing Surfer does differently from Frase is that it also looks at off-page SEO factors. When you run a content audit with Surfer, it will call out the number of backlinks the average competing piece of content has. And how yours compares.
This is a great additional feature.
After that, Surfer's on-page audit displays a list of phrases that competing top-ranking pieces of content include. And it shows how many times your content uses those phrases compared to the competition.
Now, something strange about Surfer's approach is that it puts a lot of emphasis on keyword density. 
For example:
My Content Marketing Examples post uses the phrase "content marketing examples" 8 times.
But it's a super long post: over 14,000 words. So according to Surfer, it should include that phrase 83-165 times.
Should I really repeat that keyword over 100 times?
Heck no.
Surfer is good at finding related terms to include, though. The core functionality works well, and I do like the tool a lot.
Just don't follow its suggestions blindly.
Surfer also includes a cool SERP analyzer tool, plus a decent keyword research tool. 
Website: https://surferseo.com/
24. Animalz Revive
Price: Animalz Revive is free.
What it does:
Animalz Revive is a content analyzer with one focus: finding pages on your site that have lost a lot of traffic.
So you can update old articles and bring their traffic back.
How it works:
Animalz Revive is super simple to use. It uses your Google Analytics data, so you have to grant it access to that first.
Once you do, it generates a report of which pages on your site have lost traffic over the past 12 months. The report looks like this:
Along with the report, Animalz also provides some general tips around how to refresh your content.
Website: https://revive.animalz.co/ 
25. Google SERP Simulator
Price: Free.
What it does:
Google SERP Simulator lets you see how your site's preview text on Google will look. It's a fast way to see if your title tag and meta description are too long.
In reality, you can't fully control what Google will put in your search snippet. Google ignores meta descriptions as much as 70% of the time, displaying other text instead.
But it's still good to use a tool like this to keep your title tag and meta description short enough and relevant. Which will make it more likely that Google will actually use your wording.
How it works:
Just type in your meta title tag and meta description, and the tool will display how your Google search snippet should look.
You can also add a URL and target keyword, toggle between mobile and desktop views, and even overlay a simulated heatmap.
Side note: The company behind Google SERP Simulator is Mangools, which also makes a budget suite of SEO software. Google SERP Simulator is free for everyone, but Mangools's paid tools cost $29.90 – $129.00 per month.
Website: https://mangools.com/free-seo-tools/serp-simulator 
Social Media Management Tools
26. Later.com
Price: Later offers a limited free plan for individuals. Its paid plans cost $12.50 – $40 per month.
What it does:
Later is a social media management platform for managing Instagram accounts. It also works with Facebook, Twitter and Pinterest.
How it works:
To use Later, after connecting your social media accounts you'll be prompted to upload an image for your first post.
You can then use the calendar feature to schedule it for the time and date of your choice.
Later also features Instagram analytics and a "Linkin.bio" feed-based landing page generator.
Website: https://later.com/ 
27. TweetDeck
Price: TweetDeck is free.
What it does:
TweetDeck is a Twitter account management dashboard and tweet-scheduling tool. It's owned by Twitter.
How it works:
TweetDeck's main interface is a customizable, multi-column dashboard.
This lets you see your home feed, notifications, direct messages, trending topics and scheduled tweets all on a single screen.
You can also add columns for specific accounts, hashtags or keywords.
And unlike regular Twitter, the entire experience is ad-free. 
Website: https://tweetdeck.twitter.com/ 
28. Buffer
Price: Buffer's paid plans cost $12 – 99 per month. There's also a limited free plan.
What it does:
Buffer offers tools for social media post scheduling, social analytics and social listening/engagement. They work with Instagram, Facebook, Twitter, LinkedIn and Pinterest.
How it works:
Buffer has three different SaaS tools:
Buffer Publishing: their social post scheduling and collaboration tool. This costs $0 – $99 per month.


Buffer Analytics: their social analytics tool. This costs $28 – $50 per month.


Buffer Engagement: their social listening tool. This can't be purchased alone, but it's included with every paid Publishing or Analytics plan.
Buffer is best known for the Publishing tool.
Here's how it works:
After you connect your social accounts, Buffer will generate daily time slots you can fill with content. Simply click on a slot to schedule a post there.
Alternatively, you can write a post and just add it to the queue — Buffer will put it in the next available time slot. Which makes it easier to keep publishing a steady flow of social media updates.
And of course, the time slots are customizable if you don't like Buffer's default days and times.
Website: https://buffer.com/ 
29. Tailwind
Price: Tailwind's standard plans cost $9.99 – $14.99 per month per social network. They also offer add-on features starting at $4.99 per month.
What it does:
Tailwind is a social media post scheduling tool for Pinterest and Instagram.
How it works:
Tailwind includes different features with its Pinterest and Instagram management tools.
For Instagram, the software will auto-fill caption templates, suggest popular hashtags and help you decide the best times to schedule your posts.
For Pinterest, one great feature is a browser extension that lets you take images you find online and quickly schedule them as pins to the Boards of your choice.
Website: https://www.tailwindapp.com/ 
30. Typefully
Price: Typefully's basic features are free. For more advanced features and analytics, Typefully Pro and Typefully for Teams each cost $10 per month.
What it does: Typefully bills itself as a "distraction-free" editor for Twitter. It's a streamlined web app for writing and scheduling tweets and threads.
How it works:
Typefully's main interface consists of two things: a simple text editor on the left, and a preview of how it'll look on Twitter on the right.
The preview pane is Typefully's best feature, since it lets you see exactly what your tweets will look like when they go live. Including any images or videos you add or URLs you link to.
Typefully also makes it really easy to create threads. All you have to do is put two line breaks between paragraphs. And each paragraph into its own tweet in the thread.
Super simple.
Website: https://typefully.app/ 
31. Twitter Media Studio
Price: Free.
What it does:
Twitter Media Studio is a suite of free tools from Twitter. The tools are designed with videos, images and GIFs in mind — but they're also useful for people who tweet with text alone.
If you've ever wondered when the best time to tweet is, Twitter Media Studio is for you.
How it works:
I love Twitter Media Studio for one feature: the "timing is everything" chart.
This shows you exactly when your followers are active on Twitter. So you can post at those times.
To use it, sign up for Twitter Media Studio for free. Then go to Insights >> Audience.
You can use the default date range, or expand it for a bigger sample size.
Website: https://studio.twitter.com/audience-insights 
Email Newsletter Tools
32. Substack
Price: Substack is free for newsletters that don't charge subscription fees. For paid newsletters, the service charges 10% of subscription revenue.
What it does:
Substack is an email newsletter platform. It lets users write, send, and charge money for their newsletters.
How it works:
Substack's interface is dead simple.
The text editor doesn't have any bells and whistles, but you can customize how your emails appear in the separate template options.
Emails are drafted as "posts", which you can choose to either email to every subscriber or only to paid subscribers.
You can also choose to post them purely online like a blog post (on your personal subdomain: yourname.substack.com).
Website: https://substack.com/ 
33. Revue
Price: Revue is free for newsletters that don't charge subscription fees. For paid newsletters, Revue charges 5% of revenue.
What it does:
Revue is a platform for writing, sending and monetizing email newsletters.
It's a Twitter-owned competitor to Substack.
How it works:
Revue's email drafting interface is quite simple and streamlined.
But here's a cool feature: you can connect Revue to your social profiles like Twitter, Facebook and Instagram. Or to other services like Pocket, Instapaper, Medium or any RSS feeds.
Then, Revue will grab your recent content and links from those services and display them in the sidebar. Right next to the email you're drafting.
From there, you can drag that content straight into your email. It's a really easy way to curate content or come up with topics to email your subscribers about.
Website: https://www.getrevue.co/ 
34. Newsletter OS
Price: Newsletter OS costs $49 as a one-time fee.
What it does:
Newsletter OS is a Notion dashboard made to help you start and run an email newsletter.
How it works:
After buying Newsletter OS, you'll get a link to the Notion template. Which you can then duplicate to save in your own Notion workspace.
But Newsletter OS is much more than a simple template. It's an in-depth guide, a task planner, a parking lot for ideas and more.
It includes sections on Planning, Writing, Growth, "Doing & Learning", Monetization and Resources.
Each section includes several resources and tools to help you run your newsletter.
For example, here's the database for affiliate links (from the Monetization section). If you choose to monetize with affiliate links, you would replace the data in this database with your own in order to stay organized:
Each page in Newsletter OS also includes instructions on how to use it. Often with screenshots or a brief video walkthrough.
Website: https://newsletteros.com/
Email Marketing Tools
35. ConvertKit
Price: ConvertKit's pricing ranges from $29 per month for up to 1,000 subscribers on the basic "Creator" plan, up to $2,599 per month for up to 400,000 subscribers on the more advanced "Creator Pro" plan. (Larger lists require a custom quote.)
ConvertKit also offers a limited free plan for up to 1,000 subscribers.
What it does:
ConvertKit is an email marketing tool for creators.
It also includes a landing page builder, a Gumroad-style commerce tool, and a "newsletter feed" option that basically turns your emails into blog posts.
How it works:
ConvertKit was one of the first low-cost email marketing tools to offer automation features. From simple time-based email sequences to tag-based visual automations.
For example, you can set up a welcome email that asks subscribers what they're interested in. And then based on how they answer, automatically send different warm-up sequences and product offers to each segment.
ConvertKit also lets you A/B test email subject lines.
When you draft a broadcast email, you can include an alternate subject line. If you do, ConvertKit will test each subject line on 15% of your email list. After a few hours, the email software will send the subject line with the higher open rate to the rest of your list.
Website: https://convertkit.com/ 
36. Drip
Price: Drip's pricing ranges from $19 per month for up to 500 subscribers, to $1,699 per month for up to 150,000 subscribers. (Larger email lists require a custom quote.)
What it does:
Drip is another email service provider with a lot of automation functionality. But what makes Drip different is its focus on ecommerce.
Which includes features like Shopify integration, abandoned cart emails and expiring links.
How it works:
Drip offers a number of workflow templates that make it easy to set up automated emails based on different triggers.
For example, the "birthdays and anniversaries" workflow template automatically sends a coupon code to customers on their birthdays.
While the "browse abandonment" template can nudge customers to buy any product on your site that they've looked at multiple times.
Each step in the workflow templates can be edited to fit your business. And of course, you can also create new workflows from scratch — or skip them altogether and just send individual broadcast emails.
Another useful feature of Drip is "resend to unopened".
When you enable "resend to unopened", after a set amount of time the platform will re-send your broadcast email to anyone who didn't open it. Using a different subject line to entice them to take a look.
Like ConvertKit, Drip also lets you split-test subject lines (and email content).
Website: https://www.drip.com/ 
37. EmailOctopus
Price: EmailOctopus's pricing ranges from $20 per month for up to 5,000 subscribers, to $950 per month for up to 500,000 subscribers. Larger lists require a custom quote.
The company also offers a limited free tier (with EmailOctopus branding) for up to 2,500 subscribers. 
What it does:
EmailOctopus is budget-oriented email marketing software.
It's much cheaper than ConvertKit and Drip: a 10,000 subscriber EmailOctopus plan costs $30/mo., while with ConvertKit it would cost $119/mo. and with Drip it would cost $154/mo. (And MailChimp would charge $105.)
Of course, EmailOctopus doesn't have as many automation features as those others. But if all you need is a simple email service provider, it's a great option.
How it works:
EmailOctopus revolves around two campaign types: "regular" and "automated".
Regular = a single email sent to your list.
Automated = an email that gets sent automatically whenever a specific event happens. For example, a welcome email that gets sent to new subscribers when they sign up.
When you choose either option, you'll be taken through a step-by-step process to write your email. And to configure it with any tracking options and personalization.
Finally, for a regular email you'll choose whether to send it immediately or schedule it for later. While for an automated email you'll choose how it will be triggered.
Website: https://emailoctopus.com/ 
Email Outreach Tools
38. Hunter.io
Price: Hunter offers a free plan for up to 25 searches per month. While its paid plans include 500 – 30,000 searches per month for $34 – $399 per month.
What it does:
Hunter is a tool for finding email addresses for outreach. Sometimes it can also find phone numbers.
How it works:
To use Hunter, just type in the domain name of the company you're interested in. For example, "tesla.com".
The tool will pull up a list of email addresses it has found on that domain. Along with the names and positions of the people they belong to.
If you're looking for a specific person, you can use the "Finder" tab instead. In that case, you'll put in the name and domain. And if Hunter can find their email address, it will display it.
Finally, Hunter also includes an email verification tool. So you can check a list of email addresses to make sure they're valid before reaching out to them.
Website: https://hunter.io/ 
39. Buzzstream
Price: Buzzstream costs $24 – $999+ per month.
What it does:
Buzzstream is a tool for scaling your email outreach. It includes templated emails, automated follow-ups, open rate tracking, and prospecting tools.
How it works:
Buzzstream lets you filter prospective websites by all sorts of useful metrics. Like how recently they've published new content, how many dofollow outbound links they've published, domain authority and more.
Because it has so many features, Buzzstream can be a little overwhelming at first.
Luckily the software features workflows to guide you through almost any process. Like:
Scraping Google for domains to reach out to.
Reviewing the websites to ensure they're worth your time, and removing the ones that aren't.
Finding contacts' names and email addresses.
Generating an email template with dynamic fields for names, etc.
Sending customized outreach emails at scale, and automatically following up with those that don't respond.
And more.
Website: https://www.buzzstream.com/ 
Content Curation Tools
40. AllTop
Price: AllTop is free.
What it does:
AllTop is a website that displays the top news and blog headlines from around the web. Letting you see tons of hot topics and stories all in one place.
How it works:
AllTop's homepage has lots of general trending stories.
But to get the most from the site, check out the tabs at the top. There, you'll find niche-specific categories like "Fitness," "Ecommerce," "Cryptocurrency" and "SEO".
There's also a "Viral" page that shows the most-shared articles of the week.
Which can be a great way to find content to share with your audience, or to get inspiration for creating new content.
Website: https://alltop.com/ 
41. Mailbrew
Price: Mailbrew's basic features are free, with limitations. The unlimited Pro version costs $10 per month.
What it does:
Mailbrew sends you a personal daily email digest with updates from the Twitter accounts or subreddits you want to follow.
You can also get a summary of your calendar, top Hacker News posts, stock market quotes and more.
How it works:
Each email digest you'll get from Mailbrew is called a "brew".
You can set up multiple brews using different sources like Twitter and reddit. And have them sent to you at the time you'd like on a daily, weekly, or monthly basis.
Mailbrew has a number of recommended sources. But you can also use pretty much any website or RSS feed.
And you can customize how much from each source is included in your email digest: just an excerpt or the full article, with or without images.
Website: https://mailbrew.com/ 
42. Daily 140
Price: Daily 140 lets you track 3 users for free, or up to 10 for $5 per month.
What it does:
Daily 140 will email you a daily summary of what specific Twitter users did on the platform that day. Meaning not just their tweets, but also their follows and likes.
This lets you see what influential tweeps are thinking about and paying attention to — often before they even start talking about it.
How it works:
To set up Daily 140, first you'll log in with your Twitter account.
Then you'll type in the Twitter accounts you want to track. And choose which of their activities you want to see: any combination of tweets, follows, and/or likes.
After that, you'll get a simple email each day with everything you signed up to see.
Website: https://daily140.com/
Analytics Tools
43. Google Analytics
Price: Google Analytics is free.
What it does:
Google Analytics is used by 84.2% of known websites, making it the most popular piece of analytics software by far.
How it works:
The most important Google Analytics report is probably the All Traffic report. It will show you:
Where your traffic is coming from.
How many conversions are coming from each traffic source.
And which specific pages the traffic is going to. (As well as how many conversions are coming from each of those pages.)
To see this report, go to Acquisition >> All Traffic >> Source/Medium.
On the left, you'll see all your traffic sources. Followed by how many visitors are coming from each.
Scroll to the right to see how many conversions each traffic source is driving. (If you don't see any, you may need to set up Analytics goals.)
To see this data by landing page, simply click "Secondary dimension" and then hit "Landing pages". This will tell you which pieces of content are responsible for the traffic from each traffic source.
If that view is a little too messy for you, you can use the separate Landing Pages report to see aggregate data by landing page — without the traffic source breakouts.
The Landing Pages report makes it easy to see overall top-performing content. As well as underperforming content that may need an overhaul. To get to it, go to Behavior >> Site Content >> Landing Pages.
Website: https://analytics.google.com/ 
44. Analisa.io
Price: Analisa.io costs $59.35 – $239 per month. The company also offers a free basic plan.
What it does:
Analisa.io is a competitive research and social analytics tool for Instagram and TikTok.
How it works:
Analisa.io lets you see analytics for a given Instagram or TikTok profile or for specific hashtags. It can also analyze an Instagram profile's followers.
To use Analisa.io, just type in a profile name. The tool will show you the account's:
Engagement rate
Like rate
Comment rate
Follower demographics, authenticity and geographic location
Average engagement over time
Average posting days and times
And more.
When you use it for hashtags, Analisa.io will chart the number of posts with that hashtag over time and show which top influencers are using that hashtag.
Website: https://analisa.io/ 
45. Social Blade
Price: The basic version of Social Blade is free. Its paid plans cost $3.34 to $99.99 per month.
What it does:
Social Blade is a social media analytics website. Its main focus is on YouTube account stats, but it can also be used for TikTok, Twitch, Twitter, Facebook, Instagram and others.
How it works:
Social Blade can be used for either competitor research or for analyzing your own accounts.
Just type in the account name on the Social Blade homepage and it will take you to a stats page about that account.
For example, here are the stats for MrBeast's YouTube channel:
You can see the channel's most popular videos, total views for the last 30 days, the channel's popularity rankings, its estimated earnings, its overall grade and more.
Which can help steer your own video content strategy.
Website: https://socialblade.com/ 
46. Talkwalker Alerts
Price: Talkwalker Alerts is free.
What it does:
Talkwalker Alerts is a tool for monitoring online mentions of your brand name or relevant keywords. It features social listening and news monitoring, and it catches both linked and unlinked mentions.
How it works:
To use Talkwalker Alerts, just type in a keyword you'd like to be notified about via email. Then add your email address and choose how often you want to be alerted: as it happens, once a day, or once a week.
You can preview your settings before submitting to make sure you'll be getting relevant results. Then, submit the form and you're all set.
Now when you get an unlinked mention on a blog or news site, you'll know about it. So you can reach out to the author and ask for a link.
Or when you get new links, you can reach out to thank them and build a relationship.
Website: https://www.talkwalker.com/alerts 
47. Google Alerts
Price: Free.
What it does:
Like Talkwalker Alerts, Google Alerts lets you see new mentions of your name, brand name, or other keywords.
However, Google Alerts will only tell you about new results that are in Google's index.
So Google Alerts often misses social media posts and forum discussions. But it sometimes catches other results that Talkwalker misses. So it's not a bad idea to use both.
How it works:
Type in the keyword you want and Google Alerts will show you a preview of results for that keyword.
Then you can create the alert. Or select "show options" to choose how often you receive alerts and what kinds of results you want to see.
Tip: for longer phrases, add quotes to make the results more relevant.
For example, "content marketing experts" with quotes will return more relevant results than content marketing experts without quotes.
Website: https://www.google.com/alerts 
Video Tools
48. Kapwing
Price: Kapwing offers a free, limited version as well as a Pro plan for $20 per month.
What it does:
Kapwing is a browser-based video editing program.
It isn't nearly as powerful as professional software like Adobe Premiere or Final Cut Pro. But it's much simpler to use. Plus since it's cloud-based, it doesn't require a fast processor or graphics card.
All of which makes it a great option for content marketers who want to make a quick video (or meme) without hiring a video editor.
How it works:
To start editing a video in Kapwing, you can either upload a source file or paste in a URL. For example, give Kapwing the URL of a YouTube video and it'll open up as an editable project.
From there, you can:
Change the aspect ratio (for example, you can use 9:16 for Instagram Stories)
Add subtitles and animations
Edit the audio
And lots more.
You can also use Kapwing to make screen recordings, with or without your webcam.
Website: https://www.kapwing.com/ 
49. Descript
Price: Descript costs $12 – $30 per user per month. There's also a limited free plan.
What it does:
Descript is audio/video editing software for podcasters and YouTubers. It also features automatic transcription and a screen recorder tool.
How it works:
Descript's key feature is doc-based editing. Meaning, you can delete words from the transcript it generates, and it will automatically remove those words from the actual audio clip.
You can even add new words to an audio track by typing them in: its "Overdub" tool uses AI to speak in your voice.
Website: https://www.descript.com/ 
50. YouTube Studio
Price: YouTube Studio is free.
What it does:
YouTube Studio (formerly YouTube Creator Studio) is the main hub for managing a YouTube channel. It includes detailed channel analytics, user comment management, monetization tools and more.
How it works:
YouTube Studio's main dashboard shows an overview of your channel's basic info. Like how many new subscribers it's gotten over the past 28 days, and how its most recent video is performing compared to average.
You can use the left-hand navigation to see a list of your videos, more detailed analytics, comments from viewers, monetization options, an audio library of free music and sound effects, and more.
Website: https://studio.youtube.com/ 
51. Morningfame
Price: Morningfame costs $4.90 per month for its YouTube analytics tool and limited access to its YouTube keyword research tool. Or you can pay $12.90 per month for unlimited access to both tools.
What it does:
Morningfame is a YouTube channel analytics tool. It features broad overview metrics like video views per week and average watch time, as well as a feed of new channels that have started recommending your videos.
Beyond simply reporting on your channel's performance, Morningfame also provides specific recommendations to help you improve it. As well as how your channel compares to similarly-sized channels in your niche.
How it works:
The first step in setting up Morningfame is to connect your YouTube channel to it.
Once you do that, it will start populating its reports with your data. 
And below each report, you'll see "workshops" of actionable tips on how to improve. Or specific recommendations based on your data.
For example, the tool will recommend growing your channel by creating more videos like your top-performing ones. And to make that tip more actionable, it will list out your top-performing videos alongside a summary of each one's performance.
Website: https://morningfa.me/
Image Tools
52. Pixabay
Price: Pixabay is free.
What it does:
Pixabay offers millions of free, downloadable stock photos. As well as hundreds of thousands of free stock videos, illustrations, vectors and music tracks.
How it works:
On the Pixabay homepage, simply type in a description or keyword of whatever you're looking for. For example, "blue sky" or "snowy forest".
Then choose a format: whether an image type (photos, vector graphics or illustrations) or videos.
After making a search, you can refine your results by resolution, color and more.
Note: Competitor Pexels is very similar to Pixabay, with millions of free stock photos and videos. But unlike Pixabay, Pexels doesn't have free vectors or music.
Website: https://pixabay.com/
53. Bannerbear
Price: Bannerbear costs $49 – $399 per month. 
What it does:
Bannerbear is an API-based tool that automatically creates banners and videos for social media, emails and more.
If you have a data feed that includes images — for example, a Shopify product catalog — Bannerbear will use those images to create your banners. If you don't provide images, Bannerbear will use a solid background color with text from the page overlaid.
For videos, Bannerbear uses stock videos from Pexels with your text overlaid.
How it works:
The simplest way to use Bannerbear is with Zapier.
You can set up a Zapier workflow that triggers when a new row is added in a Google Sheet, to  automatically generate an image based on that row and then schedule that image as an Instagram post via Buffer.
Here's what that workflow would look like:
As your data source, you can alternatively use tweets from a specific Twitter user, incoming Slack messages and more.
Website: https://www.bannerbear.com/ 
54. Canva
Price: Canva costs $9.99 – $30 per person per month. They also offer a limited free plan.
What it does:
Canva is a web-based design tool. You can use it to create social media banners, edit images, build slide presentations and even create simple videos.
How it works:
Canva's key feature is its huge collection of free templates. They have templates for Facebook ads, TikTok videos, YouTube thumbnails, startup pitch decks and more.
To get started, just type what you want to make into the homepage search box. Or browse the options below.
Next, choose the template you like best and customize it as much as you'd like. Easy peasy.
Note: If you don't like Canva, their competitor Snappa offers most of the same functionality but for images only.
Website: https://www.canva.com/ 
55. PicMonkey
Price: PicMonkey costs $6 – $23 per month.
What it does:
PicMonkey is browser-based photo editing software. The tool includes stock photos and templates for things like Pinterest Pins, Instagram Stories and YouTube thumbnails.
It isn't powerful enough for professional graphic designers. But for solo content creators or teams on a budget, it's a great option.
How it works:
You can use PicMonkey to edit existing images or to create new ones. But its best feature is probably its templates.
To use a template, just click the "templates" button at the top of the interface. Then start typing a description of what you need into the search box. For example, "Pinterest Pin" or "Facebook Carousel Ad".
The tool will pull up a variety of templates that match the image size you're looking for. Complete with stock images to start.
From there you can edit any aspect of the image you want, and then download the file to use as needed.
Website: https://www.picmonkey.com/ 
56. Remove.bg
Price: Remove.bg is free for low-res images, or costs $8.10 – $389 per month for high-resolution images. You can also pay for individual images at a rate of $0.40 – $1.99 each.
What it does:
Remove.bg is a tool for removing the background from photos. Turning them into transparent PNG files.
How it works:
To use Remove.bg, just drag and drop a photo onto the web tool.
It will automatically remove the background in a few seconds. If the results aren't perfect, you can apply manual touchups.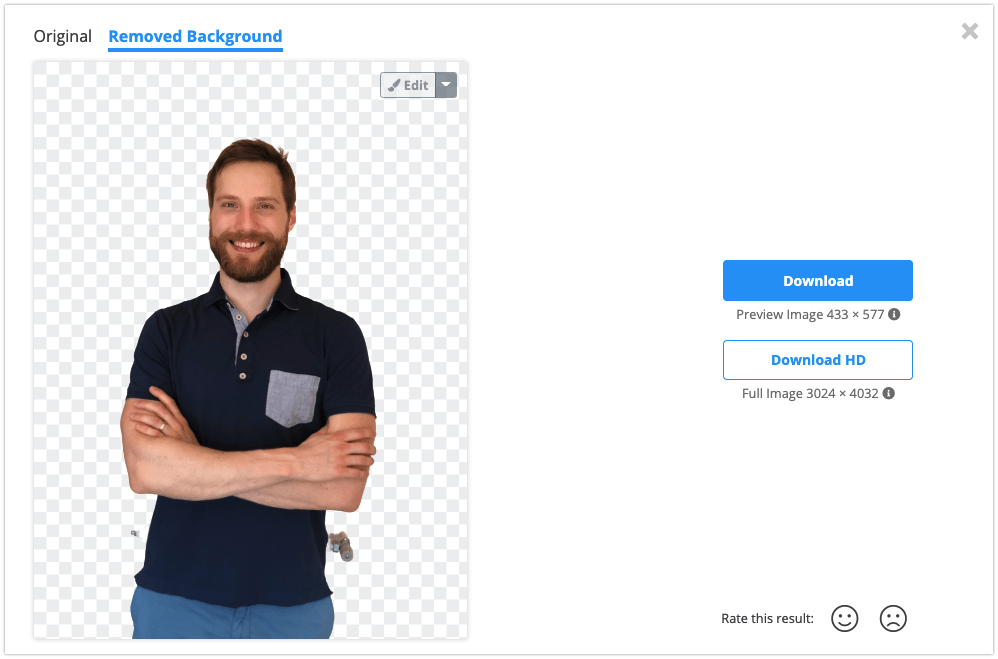 The tool also lets you replace the background with different themed backgrounds like the beach or jungle. Most of them are pretty cheesy, like Zoom backgrounds. But there are also solid color backgrounds and background blur effects that might work well for a profile picture.
Website: https://www.remove.bg/ 
Content Writing and Editing Tools
57. CopyAI (Copy.ai)
Price: CopyAI costs $35 and up per month.
What it does:
CopyAI is an AI copywriter and content writer. It's based on OpenAI's GPT-3.
How it works:
To use CopyAI, first you'll choose one of its content categories.
There are dozens of categories available, from Instagram captions to meta descriptions, blog introductions, product descriptions, LinkedIn text ads, topic ideas, AIDA sales copy and more. So the tool can help you create almost any type of content.
Next, you'll briefly describe the subject. Hit "Create" and it will generate a list of copy ideas below.
In practice, CopyAI's writing isn't 100% ready to use. But that's true for most freelance writers too.
CopyAI's real value comes from the ideas it generates.
It spits out a list of 7 ideas each time, and you can tell it to create more from there. Which can be pretty valuable as a time-saver — even if you do need to do some heavy editing afterward.
Website: https://www.copy.ai/ 
58. Google Docs
Price: Free.
What it does:
Google Docs is a free browser-based text editor. It's also available as a desktop app and mobile app.
It has great features for managing user permissions and tracking edits. Which makes it awesome for working with a larger content team, partnering with guest bloggers, and getting client feedback and approvals.
In fact, it might be the single best content collaboration tool available.
But even if you're working solo, Google Docs is great because it's free and easy to use on any device.
How it works:
You've probably used Google Docs before. And if not, it's pretty self-explanatory. But I'll show you two of my favorite features you may not have used.
First up: document outline. If you write long articles, this feature is incredibly helpful.
To use it, go to View >> Show document outline.
This opens a pane on the left containing your document's headings and subheadings. Which gives you a great birds' eye view of your article. And you can click on any heading to jump to it in the doc.
My other favorite feature is voice typing.
Voice typing a great way to save time early on in the content creation process.
To use it, go to Tools >> Voice typing.
When I'm writing about a topic I know really well, voice typing helps me get started really quickly. I just activate the feature and start talking. And that becomes my rough first draft.
From there, it's only a matter of filling in any gaps and editing it into something publishable.
Website: https://docs.google.com/ 
59. Wordable
Price: Wordable costs $49 – $999 per month.
What it does:
Wordable is a tool for importing your writing from Google Docs into WordPress. (Simply copy-and-pasting between the two can create formatting issues. So Wordable solves that problem.)
Wordable also works with other text editors, as long as they can export a document in HTML format. And it works with other CMSs like Medium and HubSpot.
How it works:
Wordable's most popular function is probably importing Google Docs into WordPress.
To do that, first you need to install Wordable's WordPress plugin. Then you'll be prompted to grant Wordable access to your Google Drive. The software automatically creates a separate "Wordable" folder in your Google Drive, which makes organization easier.
After you move the document to your Wordable folder in Drive, you'll be able to export it to WordPress. You get to choose the publishing status first.
You also get to apply "transformations" at this point. 
Transformations let you make lots of changes to your content all at once. For example, you can make all your links open in a new tab. Or you can compress all the images.
Here are all the transformation options:
Choose any transformations you want and then Wordable will turn your Google Docs draft into a clean, well-formatted WordPress post.
Website: https://wordable.io/ 
60. Hemingway Editor
Price: Hemingway Editor is free to use as a web app. The downloadable version of the software is the Hemingway App, which costs $19.99 (one-time purchase).
What it does:
Hemingway Editor (and the Hemingway App) offers real-time feedback on your content as you type. The tool checks for readability, rambling sentences, overuse of adverbs, and passive voice.
Unlike some other tools like Grammarly, Hemingway Editor doesn't make many specific suggestions. It also doesn't check for typos or bad grammar. So if you struggle with those as a writer, it's probably not your best option.
But it's a great bet if you just need to quickly check your phrasing for free.
How it works:
You can use Hemingway as a text editor. Or paste in content you've written elsewhere.
Either way, it will use color-coded highlights to show you any problem areas in your writing. With general suggestions on improvements to try.
Website: http://www.hemingwayapp.com/ 
61. Grammarly
Price: Grammarly's basic plan is free. Its paid plans cost $11.66 – $12.50 per user per month.
What it does:
Grammarly is primarily a Chrome extension that corrects your grammar and spelling as you type. Its paid plans also offer feedback on style and tone.
Additionally, there's a Grammarly desktop app, a Grammarly mobile keyboard, and Grammarly plugins for Microsoft Word and Google Docs.
How it works:
Grammarly's Chrome extension will automatically check your writing pretty much anywhere inside the web browser.
Here's how it looks if you're writing an email in Gmail. (The suggestions pane on the left can be minimized.)
You can also choose whether to have Grammarly auto-correct your spelling or just tell you when something is spelled wrong.
Website: https://www.grammarly.com/ 
62. Copyscape
Price: Copyscape can be used for free on published webpages. Copyscape Premium lets you check any text (without publishing it first) for about $0.05 per 500 words.
What it does:
Copyscape is a plagiarism checker tool for text content. It's invaluable for any team that hires freelance writers or uses content-writing services.
How it works:
To use the free version of Copyscape, just paste in the URL of your content and hit search. It will grab any pages that closely match your text.
Of course, this is best done when you first publish your post. If you do it on an old piece of content, you'll get results that are quoting your work.
While the free search functionality is fine, I like Copyscape Premium more because you can paste in text that hasn't been published yet.
There's also a Copyscape Premium API that lets you plug the tool into your content workflow, automatically checking new content before you post it.
The only problem with Copyscape is that it doesn't catch "spun" content. Meaning, content that's stolen but with slight changes made to the wording to avoid detection.
As I found in one experiment, 34% of outsourced content is plagiarized. But most of that is "spun." So you can't 100% rely on Copyscape, unfortunately.
Website: https://www.copyscape.com/ 
63. WebFX's Readability Test Tool
Price: Free.
What it does:
The Readability Test Tool will tell you the average grade level of any piece of written content.
It also breaks down your content's scores by several different readability indices including: Flesch–Kincaid Reading Ease, Flesch–Kincaid Grade Level, Gunning Fog, SMOG Index, Coleman Liau Index, and Automated Readability Index.
(Easy-to-read content has more cognitive fluency, which makes people perceive it as more trustworthy and fun to read.)
How it works:
To use the Readability Test Tool, just pop in the URL of a piece of content you want to analyze. Or hit the "test by direct input" button to paste in your text instead.
Hit "calculate readability" and the website will show your scores.
Website: https://www.webfx.com/tools/read-able/
Website Builders and Blog CMSs
64. WordPress
Price: The self-hosted version of WordPress is free. Or you can pair it with a paid hosting service for $4 – $59 per month.
What it does:
WordPress is the world's most popular website builder and content management system, powering 41.3% of all websites.
(Those sites range from tiny blogs to The New Yorker site, Disney's corporate website and more.)
How it works:
WordPress uses a WYSIWYG (what you see is what you get) editor, with different "blocks" for different purposes.
For example, if you'd like to add a quote with different formatting to stand out, you can add a block for that purpose. Then type your quote in that block and put it where you want. And then continue with the rest of your content on the page.
You can also click and drag different blocks around the page until it looks how you want.
You can try it for yourself in your web browser right here: just click into the page and start typing to see what it's like.
There are also millions of themes and plugins available for WordPress to customize it even more.
Website: https://wordpress.org/ (free) and https://wordpress.com/ (paid)
65. Medium
Price: Free for writers publishing on the Medium.com domain. Publishing on your own custom domain requires a $5 per month Medium membership.
What it does:
Medium is a blogging platform with support for newsletters.
Through Medium's Partner Program, you can monetize your work by making it accessible only to paying Medium members. Or you can keep your posts free and open like a normal blog.
How it works:
Medium is known for its streamlined writing experience and clean blog design.
It isn't nearly as customizable as WordPress. But it does let you tweak the color scheme, fonts and layout of both your blog homepage and individual posts.
Here's what those options look like:
If you use Medium, you'll have to choose whether to keep your blog on the Medium.com domain or put it on your own domain.
If you keep it on the Medium.com domain, you might get more traffic. At least in the short term. That's because Medium.com has a lot of domain authority and a built-in audience.
But if you keep your blog on the Medium.com domain, your own website won't benefit from the backlinks it receives.
While if you publish your blog alongside your website on your own domain, any "link juice" you get will improve your main site's ability to rank on Google.
So the route some brands take is to publish in both places: put the original content on a blog at your own domain, then publish a copy of it on the Medium.com domain as well.
Website: https://medium.com/ 
66. Ghost
Price: Ghost's self-hosted version is free. The hosted "Pro" version costs $9 – $249 per month.
What it does:
Ghost is a website builder and blogging platform. It's also a great platform for sending email newsletters. And it features built-in support for paid subscriptions and memberships. 
How it works:
Similar to WordPress, Ghost features a WYSIWYG (what you see is what you get) text editor that uses "cards" for multimedia items. It also natively supports Markdown formatting.
The platform also has a growing number of website themes available to customize the look of your site.
Website: https://ghost.org/ 
67. Carrd
Price: The basic version of Carrd is free. The Pro version unlocks more options for $19 per year.
What it does:
Carrd is a simple, no-code website builder for one-page websites.
It's not suitable for building a blog. But it's perfect for "link in bio" links on Instagram, portfolio sites, "about me" pages and simple landing pages.
How it works:
Carrd features lots of different templates you can use to build your site, depending on the look and functionality you need. Whether you need a landing page with a signup form, a list of links to all your brand's social media profiles, or something else.
(You can also start with a blank page and build it all from scratch.)
From there, Carrd uses a drag-and-drop WYSIWYG design interface. Including the ability to preview how it'll look on a mobile device vs. desktop.
Website: https://carrd.co/
Podcasting Tools
68. Wavve
Price: Wavve costs $8 – $32 per month. There's also a limited free plan.
What it does:
Wavve creates simple waveform videos from audio clips. Which makes your podcast excerpts shareable on social channels (since most social networks don't let you share audio alone).
How it works:
Using Wavve is a two-step process.
First, you choose a design for your waveform video. Then, you upload (or record) a short audio clip.
Hit the "generate video" button and Wavve will create your video.
Website: https://wavve.co/ 
69. Rev
Price: Rev offers AI-based transcriptions for $0.25 per minute of audio, or human-aided transcriptions for $1.25 per minute of audio.
The company also offers a subtitling service for foreign languages for $3 – $7 per minute.
What it does:
Rev is a transcription tool. It uses a combination of artificial intelligence and human workers to transcribe podcasts and other audio.
How it works:
After choosing which Rev service to use, the site will ask a few questions about your audio clip. Then it'll prompt you to either upload a video or audio file, or paste in a URL that has one.
From there, Rev will give you an estimate of how long it will take to deliver your transcript or captions.
The human-based services take about 12 hours to deliver. While basic AI transcriptions only take around 10 minutes (depending on length).
Website: https://www.rev.com/ 
70. Anchor
Price: Free.
What it does:
Anchor is a free tool for recording and hosting podcasts. It includes features for distribution, monetization and analytics. And it's available as both a web app and a mobile app.
It's probably the fastest way to start a new podcast.
How it works:
After you sign up for Anchor, it will take you through a step-by-step process to get started.
The first step is adding a podcast episode, which you can do through your web browser or the Anchor app. Or you can upload your own audio file.
After that, Anchor will guide you through additional steps like adding a podcast name and cover art, distributing it to services like Apple Podcasts and Spotify, and setting up monetization if you want.
Website: https://anchor.fm/ 
Productivity Tools
71. Pomofocus
Price: The basic version of Pomofocus is free. A premium version is also available for $1.99 per month or $36 for lifetime access.
What it does:
Pomofocus is a free browser-based pomodoro timer. Pomodoro timers help you break your work up into 25-minute sprints with short breaks in between.
This can help you focus, especially on complex tasks that are hard to get started on.
How it works:
The simplest way to use Pomofocus is just to hit the "start" button. It will start counting down from 25 minutes and make a noise when it's time for your break.
But what makes this tool stand out is all its other features.
My favorite is the tasks list: you add your to-do list with the number of "pomodoros" (25-minute blocks of time) you think they'll each need. And Pomofocus will keep track of your progress.
There are also options to change the noise the timer makes when it finishes, add a ticking sound, auto-start breaks and work periods and more.
Website: https://pomofocus.io/ 
72. Coffitivity
Price: Free. There is also a Premium version available for $9 per year.
What it does:
Coffitivity plays the background noise of a busy cafe, making it feel like you're working at a Starbucks. Except the conversations are just indistinguishable enough to not distract you.
That might sound weird, but research shows that ambient noise can help with creative thinking.
How it works:
You can use Coffitivity straight from the website, or via its free desktop app or iOS app.
It offers several different tracks, each recorded at a different cafe or restaurant. 
Website: https://coffitivity.com/ 
73. Brain.fm
Price: Brain.fm costs $6.99 per month or $49.99 per year.
What it does:
Brain.fm plays music that was specifically created to help you focus, relax or sleep. According to the company, their approach results in "neural phase locking", quickly putting you into the mental state you choose.
How it works:
Brain.fm lets you choose from about 30 different tracks. Some are music-based, while others use noises like chimes or ocean waves.
Each track is designed to help you either focus, relax, or sleep.
You can also customize your experience based on what speed of music your brain responds to best.
The Brain.fm software is accessible as both a mobile app and a web app.
Website: https://www.brain.fm/ 
Wrapping Up
And now it's your turn.
Which tool looks the most interesting to you?
Or is there one you love that isn't shown here?
Leave a comment below to let me know!